BEST RIFLE SCOPE REVIEWS FOR 2021
Before you decide which is the Best Rifle Scope for yourself, read over my detailed reviews to make sure what you're buying is exactly what you want and need. If you have time, watch the videos at the end of this article. It'll give you a pretty good idea of how these rifle scopes operate & the quality of the scope.

My picks, for the two Best Rifle Scopes, for 2021 are:
1. ATN Thor HD 4 4-40x 640 x 480

2. Trijicon 35mm 640 x 480

Because everyone wants to purchase their Rifle Scopes On sale, I've provided you with options so you can get the best price. Click on each button at the end of the review to make sure you get the scope at the lowest price. Quite often, one of the companies is having a sale. Also, there can be a big difference in prices from one company to the next.


1. ATN THOR HD 640 x 480 Review (Features, Specs, What's in The Box, Good & Bad Consumer Reviews)
3. TRIJICON 35mm 640×480 Review (Features, Specs, What's in The Box, Negative & Positive Consumer Reviews)

5. VIDEOS ON THE ATN & TRIJICON RIFLE SCOPES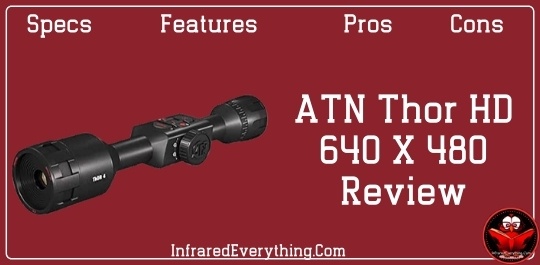 ATN ThOR HD 4 4-40x 640×480 REVIEW
These reliable Thermal Imaging Scopes from ATN have an ultra-sensitive HD thermal sensor that lets you view and record video simultaneously. Along with that they still retained your favorite features. I've listed the features & specs of the ATN Thor below.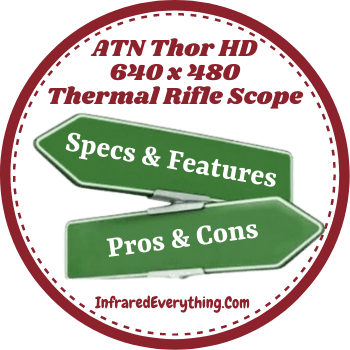 ATN THOR 640 x 480 FEATURES
■ Ultra sensitive Gen 4 640×480 Thermal Sensor
■ Smart Shooting Solution
■ Smart Range Finder
■ Smooth Zoom
■ Records Video onto a MicroSD card
■ Wifi (Streaming, Gallery & Controls) and Bluetooth 4.1 compatible with iOS and Android
■ E-Compass
■ Recoil Activated Video
■ Ballistic Calculator
■ Profile Manager
■ 3D GS7 Gyroscope
■ 3D Accelerometer
■ 3D Magnetometer
ATN THOR 4 THERMAL SCOPE

SPECIFICATIONS
■ Battery Life: 18 hours, 16 hours
■ Internal Li-Ion battery
■ Colour: Black
■ Objective Lens Diameter: 75mm
■ Focus Range: 15 m to Infinity
■ Focus Distance Minimum: 15 m
■ Magnification: 4 – 40 x
■ Sensor Resolution: 640×480 pixels
■ Display Resolution: 1280×720 pixels
■ Video Record Resolution: 1280×960 @ 30/60 fps
■ Refresh Rate: 60 Hz
■ Field Of View Angle: 6 degrees
■ Diopter Adjustment Range: -5 – 5 dpt
■ Range of Detection: 3300 m
■ Eye Relief -90
■ Weather Resistance
■ Weight: 3 in, 76 mm
■ Height: 3 in, 76 mm
■ Weight: 2.35 lb, 1.06 kg
■ Finish: Matte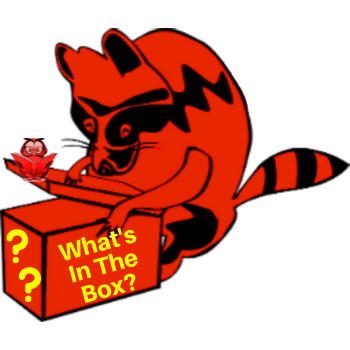 WHAT'S IN THE BOX
■ ATN ThOR 4 640 4-40x Thermal Smart HD Rifle Scope
■ USB-C cable
■ Scope Cover
■ Eyecup
■ Standard 2 pc rings
■ L-shape ring
■ Lens tissue
POSITIVE CONSUMER REVIEWS – ATN Thor 640X480




I've read several reviews on different websites. The following are 3 positive things that most people were saying about the scope.
■ Easy To Mount & Sight In
■ Extremely Clear With Great Eye Relief
■ Long Lasting Battery (at least 10 hours)

NEGATIVE CONSUMER REVIEWS -ATN THOR 640X480

Once again, I'll list the 3 top complaints that I've read on different review sights.

■ A few people complained about it being heavy
■ Expensive
■ A bit of ghosting in middle when it's foggy or raining (company is aware of it & working at fixing the problem)

A great place to find reviews on something is on Amazon. For more reviews on the ATN Thor HD, click on the Amazon Review Link Below.
More Amazon Consumer Reviews For The ATN Thor HD
ATN THOR RIFLE SCOPES FOR SALE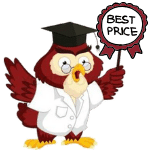 At the time of this writing, the ATN Thor was the cheapest at Amazon. Do try all 3 of them. One of the companies below could be having a sale.
If you don't need all the Bells-And-Whistles, ATN has cheaper options at Amazon, Optics Planet & eBay.
TRIJICON 35mm 640 x 480 THERMAL SCOPE REVIEW
In my opinion, Trijicon makes the best thermal scope for hunting. Along with its exceptional image quality, it has user-friendly knobs and a menu that's easy to understand making for a more shallow learning curve. Also, Trijicon is designed, assembled & machined in the U.S. to meet the standards of MIL-STD-810G.

Read over the specs & features below & decide for yourself.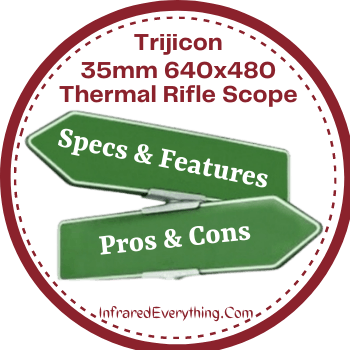 TRIJICON FEATURES

■ Enhanced Target Recognition
■ Digital Focus Control Seamless Integration
■ IR Window Lens Protection
■ Edge Detect Tactical Mode
■ 8x E-Zoom Digital Zoom
■ Thermal Sensitivity
■ Spectral Response 8 – 12 Microns
■ Digital OLED Display
■ Start-up Time: 5 seconds
■ Video Output via Analog RS-170 (with Optional Cable)
■ Enhanced target recognition
■ MaxPol white hot/black settings
■ 12 micron pixel pitch
■ User focus control
■ 30 Hz and 60 Hz frame rates
■ Tested to MIL-STD-810G methods and procedures
■ 6061 Aircraft-grade aluminum package
■ Waterproof to 1 meter
■ Nitrogen filled
■ Easy-to-use turret controls
■ Intuitive menu system
■ Eyecup Included
■ Easy-to-use eyepiece diopter adjustmen
■ Included throw-lever, quick-release mount
■ Expansive menu options
■ Can be used as a handheld monocular
■ Optional 30 Hz frame rate for increased battery life
■ Stadiametric rangefinder
■ Dual lever weapon mount
TRIJIJCON SPECIFICATIONS
■ Magnification: 2.5-20X
■ Magnification Type: Variable
■ Objective Lens: 35MM
■ Resolution: 640 X 480 pixels
■ Refresh Rate: 30 – 60 hz
■ Operating Temperature: -49 ℉ – 131 ℉ or -45 ℃ – 55 ℃
■ Field Of View 12 degrees
■ Reticle: TCR, TSR, TDR
■ Eye Relief: 27mm
■ Diopter Adjustment Range: -6 – 2 dpt
■ Battery Type: CR123 (2 batteries required)
■ Diopter Adjustment Range: -6 – 2 dpt
■ Battery Life: 3.5 – 5 hours
■ Height: 2.9 in
■ Width: 3.1 in
■ Length: 7.4 in
■ Weight: 34.9 oz
■ Colour: Black
■ Finish: Matte Black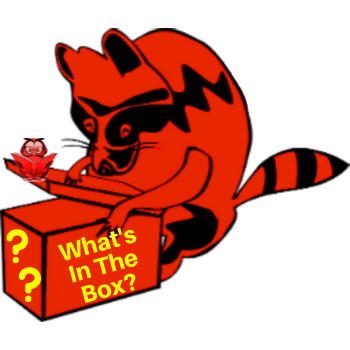 WHAT'S IN THE BOX
■ Trijicon 35mm 640 x 480 Weapon Sight
■ Advanced Turret Adj Knobs
■ LaRue Throw Lever Mount – Tactical
■ Quick Connect
■ Athernalized Lenses
■ Ocular eye Guard
■ Full Digital Display
■ Objective Lense Flip Cap
■ Hard Case
■ 640 x 480 12 Micron Thermal Core
■ Video Output

POSITIVE CONSUMER REVIEWS – Trijicon




Once again, I've listed the top 3 things people were saying about the Trijicon thermal Scope
■ Doesn't fog in any kind of weather & lens is crystal clear
■ Easy to mount, adjust & work
■ Scope is fast and precise

NEGATIVE CONSUMER REVIEW – Trijicon


The following 3 items were what several people were saying about this Pulsar thermal imaging scope.
■ Expensive
■ Sunshade could be shorter
■ Exposed turrent
If you'd like to read over a few more reviews, click on the link below.
Trijijon Thermal Scope Customer Reviews
TRIJICON RIFLE SCOPES FOR SALE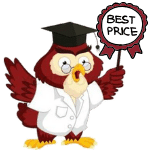 As of the time of this writing, Optics Planet was the cheapest. All 3 companies, listed below have sales on their Rifle Scopes from time to time so it's a good idea to check all three.
If you don't need all the Bells & Whistles, Trijicon has cheaper options at both Optics Planet and eBay.

WHAT A THERMAL RIFLE SCOPE CAN BE USED FOR:
■ Hunting Hogs, Deer, Coyotes and Other Varmints
■ Thermal Imaging Viewing
■ Target Acquisition
■ Security
■ Surveillance
ATN THOR & TRIJICON THERMAL RIFLE SCOPES VIDEOS
Watch the videos of the ATN Thror & the Trijicon rifle scopes. It'll give you a pretty good idea of how each rifle scope operates & the quality of the scope.

ATN THOR HD 640×480 YOUTUBE VIDEO

Trijicon 35mm 640×480

YOUTUBE VIDEO

After extensive research, I always pick, what I think are the top two products in each category. To read more reviews that I've done on other products at Infrared Everything, go to the link below.
Product Reviews at Infrared Everything.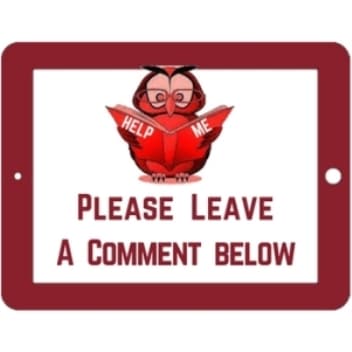 Although everyone has different tastes, we are very interested in what you have to say. If you have purchased the ATN Thor or the Trijicon, please let us know what you liked & disliked about it.
Not only will it help us, at Infrared Everything, it'll also help our viewers. We want to give everyone as much info as possible, to help make their decision a little easier. Thanks for reading our Best Rifle Scopes Article.