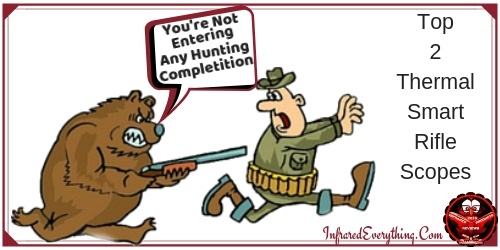 TOP TWO TACTICAL RIFLE SCOPES FOR 2018
Before you purchase a new Thermal Rifle Scope, read my detailed review of the 2 top Rifle Scopes for 2018.  These are still good quality rifle scopes & are probably cheaper than the 2019 brands.
If you'd rather just read my 2019 Review of my top 2 pics click, Best Rifle Scope
In 2018, my top two picks for Thermal Imaging Rifle Scopes were:
1. ATN Thor640 5x, 640×480, 30hz
2. Armasight Zeus Pro 640 4-32x100mm 30 Hz
Because everyone wants to purchase their Rifle Scope On sale, I'll try to provide you with at least 2 options of where you can get the best price. You'll find them at the end of each review. Quite often, one of them will be having a sale so make sure you check both.


1. ATN Thor 640 5X 640×480 100mm REVIEW (Features, Specs, What's in The Box, Good & Bad Consumer Reviews)
2. Cheatpest Place To Buy The ATN Thor 640
3. ARMASIGHT Zeus Pro 640 4-32x100mm 30 Hz REVIEW (Features, Specs, What's in The Box, Negative & Positive Consumer Reviews)

4. Best Price On Armasight Zeus Pro 640
5. Videos On The ATN & Armasight Rifle Scope
ATN THOR 640 5X 640×480 100mm (30 HZ) REVIEW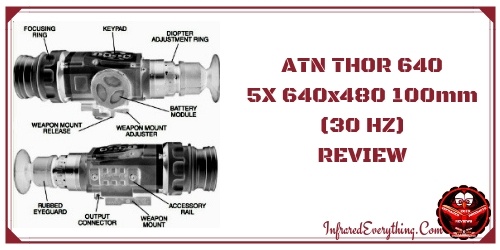 The THOR 640, made in the USA, is used by Avid Hunters, SWAT Teams, Military & especially those who like entering Hunting Competitions. The Thor Thermal Imaging Scope can also be used as a weapon scope or handheld viewer. If you'd like to capture your nighttime operation on video, it has a video-out connection.

If you're an AVID HUNTER or thinking about entering a HUNTING COMPETITION, this is a great scope to have. I've listed the main features for you below. Hopefully this will help make your decision a little easier.

ATN THOR FEATURES
Lightweight rugged & durable. It fits in the palm of your hand

You can detect your target through total darkness, fog, smoke, camouflage or bright lights.


Dust Proof & Waterproof

Start Up –3 Seconds

Digital Imaging

Digital menu with a variety of options & adjustments (quick view icons)

5X Magnification

Has E-zoom expands opticle magnification

Always holds 0 as it has no screws or springs to create errors. Being all digital it can't move off base.

Quick Release Mount: MIL – STD – 1913 (Picatinny Rail)

Power Off Safety Feature

Mil spec lenses

Digital menu to choose reticle options & colors

OLED Color Display — 800 x 600

You can use the color OLED display or the full color mode & overlay it with either black, red, blue, or a white reticle.

Has A Manual Brightness Adjustment

Has A Automatic Sharpness Adjustment

Batteries: Three Lithium Batteries (lasts up to 8 hours)
ATN THOR THERMAL SCOPE

SPECIFICATIONS
Sku: TIWSMT645B




UPC: 658175905608

Body Is Made Of Aircraft Aluminum

Germanium Objextive Lens Type

Class 3 Hard Anodized Coating

Product Dimensions: 6.7 x 2.7 x 2.9 inches ; 2 pounds

Shipping Weight: 9.4 pounds

Thermal Sensitivity is less than 50mk

Spectral Response is 7-14 um

Focal length of the lens is 100

The field of view (h x V) is 6 x 4.7 deg

Eye relief is 28mm
E-Zoom is 10, 20, 40xx

Diameter of exit pupil is 14mm

Diopter Range: +2° to -6°

Distance of human detection without zoom is 2500 meters

Distance of human recognition is 1100 meters

Has output computer set up

Has video output

Low batery indicator

Waranty 1 year
WHAT'S IN THE BOX
ATN Thor 640 5x Thermal Weapon Sight (30hz)Thermal Rifle Scope

Quick Release Mount

Hard Storage Case

Tissue for lens

CR1223A Lithium Battery CR1223A (up to 8 hours of use)


Operators Manuel

Limited 3 Year Warranty Card
POSITIVE CONSUMER REVIEWS – ATN Night Vision Rifle Scope




I've read several reviews on different websites. The following are what the majority of people are saying.
Impressed using the e-zoom on the target before taking a shot

Great resolution

Incredible Range

Easy To Set Up
NEGATIVE CONSUMER REVIEWS – ATN THOR 640




When I was searching for negative reviews on the ATN Thor 640, I could only find the following two. This rifle scope if fairly new. I will check back once in awhile & if I find anything negative on it, I will list it here.

Thought it was a bit heavy.

Found It Expensive
CHEAPEST PLACE TO BUY THE ATN THOR 640

At the time of this writing, the ATN Thor 640 was the same price at both Amazon & Optics Planet. Do try them both. One of the companies below could be having a sale. If you don't need all the Bells-And-Whistles, ATN has cheaper options at both Amazon & Optics Planet.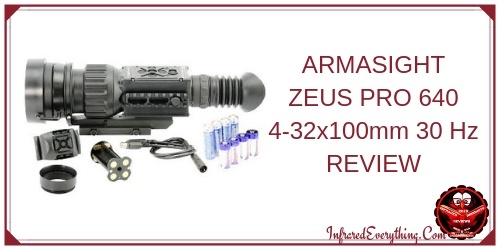 ARMASIGHT ZEUS PRO 640 4-32x100mm 30 Hz REVIEW



This Armasight Zeus Infrared Rifle Scopes, made in the USA, is my number two pick for thermal rifle scopes in 2016. I picked the 30hz rather than the 60 to review as, to me, the 30hz had a clearer picture. You do have the option of purchasing the 60hz if you want. Sometimes, more expensive isn't better. This thermal scope can also be used as a hand-held monocular.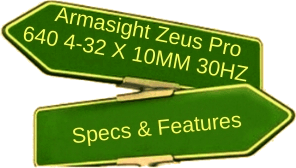 ARMSIGHT ZEUS PRO 640 FEATURES

You can detect your target through Smoke, Dust, Haze & Fog

Waterproof to 20 meters for 2 hours

Has A Quick Release Locking Weapon Mount

Equipped With A Long Eye Relief Eyepiece Lens (45mm)


Digital Compass & Inclinometer




Turns On In 3 Seconds

Digital e-Zoom: 2x / 4x / 8x (only 640 x 512)

Wireless 5 button Remote

Has TAU-2 17um Pitch Thermal Sensor

Objective Germanium Lens Options

Pixel Display Format – 800 x 600

Reticle Color: Black, Cyan, Red and White

Reticle Type: Dot 4 MOA, Line Dot, Cross Center Dot, Cross, Crosshair or No Reticle

Palettes are: White Hot – Black Hot – Sepia – Fusion, Rainbow, and Rain

Imaging Filters: Active Contrast Enhancement, Digital Detail EnhancementSmart Scene Optimization, Histogram Equalization, Lenear Automatic Gain Control

Silent Shutterless Non Uniformity Correction

Video Recording & Still Picture

Uses Four 123A 3V Lithium Batteries or Four AA 1.5V Bateries

Battery Status Indicator

Battery Life at 20° C (68° F) 7 hours
ARMASIGHT ZEUS PRO SPECIFICATIONS
Sku: TAT163WN1ZPRO41

UPC: 849815005196


Warranty: 3 Years

Warranty on FLIR detector 10 years

4-32x Magnification

100mm F/1.4 Lens

Height of The Scope Axis: 42mm (1.65 in)

Dimensions: 265 x 90 x 100 / 10.4 x 3.5 x 3.9

Weight: 1300 / 2.9 kg

Operating Termperature is -59°F to +134°F or -51°C to +57°C

Recoil Resistance: .50 BMG weapon shock & recoil

Objective Focal Length 100 mm

Objective F-number 1:1.4

Field of View 6,2° x 5°

Exit Pupil Diameter 10 mm

Focusing Range 10m & upDiopter Adjustment Range ±5 diopter

Windage/Elevation Boresight 0,6MOA & Increment (NTSC) 0,17 mils

Weapon Mount Type: Picatinny, MIL-STD-1913, & Weaver Rails
WHAT'S IN THE BOX
Armasight Zeus 4 Thermal Rifle Scope

AWReC (Advanced Wireless Remote Control – 5 buttons

Picatinny adapter for Remote Control)

Video Cable

Manual & warranty card




SKB Standard color black Case.(F200)

Soft carrying case


Battery Set

Battery Cartridge for AA Batteries

Battery Box Extender Ring For AA Batteries

Armasight Key (used to remove the battery cap insert)
POSITIVE CONSUMER REVIEWS – Armasight Zeus




Once again, I've listed what the majority of people were saying.
Sighting the unit is very easy

Amazing picture quality

Maintains zero well & performs as advertised

Solid built




Battery lasts for a normal length hunt



NEGATIVE CONSUMER REVIEW – Armasight Zeus

Because this Armasight Night Vision Scope is one of their latest rifle scopes out, I couldn't find many negative reviews. If I come across any more, I will list them here. The only two I could find were:
Expensive

Thought the scope was a bit on the heavy side.
BEST PRICE ON THE ARMASIGHT ZEUS PRO 640 THERMAL RIFLE SCOPE



As of the time of this writing, Optics Planet was the same price as Amazon. Both Amazon & Optics Planet have sales on their Rifle Scope from time to time so it's a good idea to check both.
If you don't need all the Bells & Whistles, Armasight has cheaper options at both Optics Planet & Amazon.

WHAT A THERMAL RIFLE SCOPE CAN BE USED FOR:
Hunting Hogs, Deer, Coyotes and other varmints


Thermal imaging viewing

Target acquisition

Security

Surveillance
ATN & ARMASIGHT RIFLE SCOPES VIDEO
If you watch the videos of the ATN Thror 640 & the Armasight Zeus Pro 640, you'll get a pretty good idea of how it operates & the quality of the picture.
ATN Thor 640 You Tube Video

Armasight Zeus Pro 640 You Tube Video

To read my 2017 detailed review on, Best Rifle Scope, click on the link below.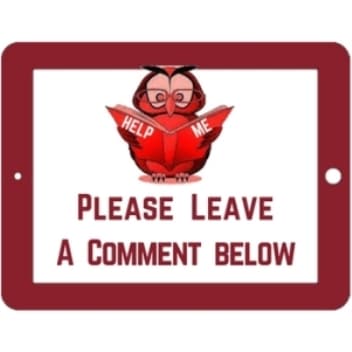 Although everyone has different tastes, we are very interested in what you have to say. If you have purchased the ATN Thor640 5x or the Armasight Zeus Pro 640 4, please let us know what you liked & disliked about it.
Not only will it help us, at Infrared Everything, it'll also help our viewers. We want to give everyone as much info as possible, to help make their decision a little easier. Thanks for stopping by our Rifle Scope Reviews.